JT Electric is a full service commercial, residential, industrial electrical and solar contracting company that is proud of its many years of success, and of the exceptional reputation gained by Bay-Area businesses. Many commercial firms, government agencies, home owners and general contractors have utilized our services to support their construction projects and on-going maintenance requirements. The company's proven success and its ability to provide reliable, cost-effective solutions for a varied range of electrical needs have developed it into a must-have contractor for successfully capturing construction contracts or resourcefully completing facility projects. The cornerstone of our success is customer satisfaction. Our interest in developing long-term relationships with our clients demands that our work fulfills their requirements and expectations.
We complete every job with the highest safety standards and our response and turn-around time are unmatched. When you need a company that employs state certified electricians and meets the demands of challenging projects with an innovative approach to critical construction backed by sound planning and designs, honest estimates, and solid electrical installations...then please contact us.
Contact us or give us a call at 408-539-9445 for a free estimate today!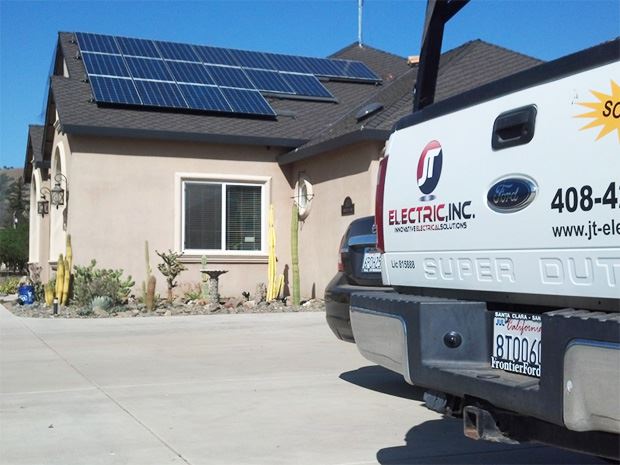 Shockingly Great Electrical Service
For the electrical needs of your home, office, or industrial facility, trust the professionals at JT ELECTRIC, INC. Based in Morgan Hill, California, we offer quality electrical contracting services. For more than 10 years, we have provided reliable, cost-effective solutions for a varied range of electrical needs, earning us an exceptional reputation among our clients.
Request an estimate today and we'll come to you! Simply fill out the form below, including your e-mail, phone number, estimate information, and thve best time for us to contact you. You will receive a confirmation after submitting the form, and one of our representatives will get back to you as soon as possible.
Emergency Service Available

We know that your electrical issues may happen at all hours of the day and night so give us a call and we'll be there for you!

20 Years of Experience

We are bringing decades of experience and knowledge to every job completed so you can rest easy knowing we can handle it.

Family Focused Service

We know that your family is important so we are committed to providing service that will keep your whole home protected.
Contact our team by filling out the simple form below or call us at 408-539-9445. We look forward to working with you.